Micro Shelter offshore for a wind farm compensation radar
Offshore wind energy industry is obliged to study and implement compensation solutions when they interfere with existing users of the sea space.
This is in particular true with regards to impacts of the wind turbines on onshore based radars operated by Port Authority as well as Navy or Coast Guards.
Within the framework of the first large scale French offshore wind farm project for Saint Nazaire (located 12km in the Atlantic Ocean), developed by Parc du Banc de Guérande (a Consortium led by EDF Renouvelable and Enbridge), Micro Shelter Solution has been selected by the turbines foundations supplier, Smulders Eiffage for the Design, Supply and Commissioning of the required system.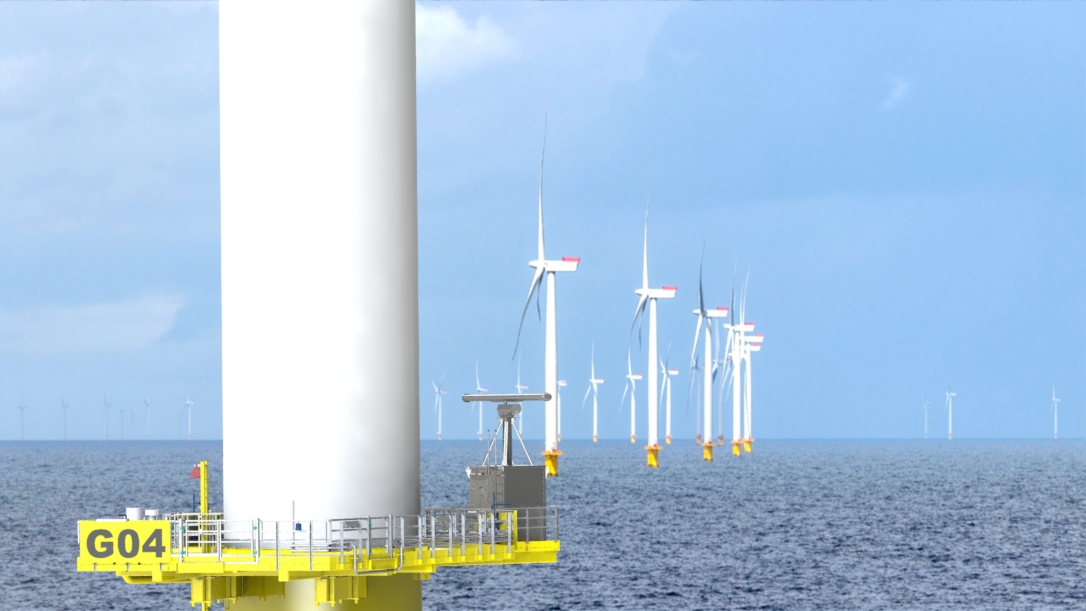 This comprises a high performance TERMA maritime surveillance radar, as well as a Micro Shelter installed on the side of the Turbine foundation.
Once integrated with the Marine Nationale SPATIONAV system, this will contribute to navigation safety, security and protection of the environment in the approaches of the wind farm.
The integration of the radar within, and on top, of the Micro Shelter has been recognised to be an efficient solution: optimising radar performances, offering high protection from the very adverse offshore environment, and securing access to the sensitive electronics. It will contribute to a high availability and efficient maintenance.
In this context, using stainless steel Micro Shelters, built for extreme environment will enable this wind farm developer to protect its equipment efficiently. The remote surveillance capabilities are also highly valuable where several hours are required to access the site, and will be limited in bad weather and thus saves on troubleshooting time.
Micro Shelter Solution has built on its experience from other Wind farm projects, such as Galloper in UK, and is expecting follow-up implementations of similar nature.