General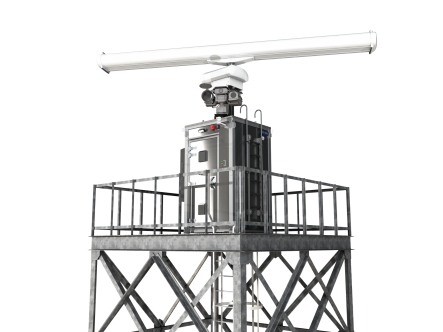 Micro Shelters are IP66/NEMA4x housings meant to house electronics equipment, and to welcome safely personnel during maintenance activities. Such operations can be undertaken whatever the outside weather conditions are.
Installation is possible on top of towers, on buildings, or in areas of restricted space and has appropriate surge protections for these conditions.
Micro Shelters are structural and can receive equipment on their roof, and can be transported/hoisted with these.
Deflection from the overall structure is minor, even in case of high wind.
The size of Micro Shelters is customisable, but standard configurations exist as depicted in the diagram on the right.
An MS14 can receive two 600mm depth racks with front access only
An MS17 offers the same rack capacity, but with easier insertion of equipment, and space on the walls for other equipment.
An MS22 is the largest square shelter that can be inserted in a container for facilitating transport, with three racks capacity
An MS24 may accommodate three racks and offer front/back access if required.
The height of a Micro Shelter is such that it can be transported on a truck's platform, or inserted in a high cube container and thus travels cheaper than using special arrangements. The MS24 requires however special attention.
Electrical
A Micro Shelter comes with its own IP66 electrical distribution board with: safety switch, Type 2 surge arrestors, RCBs, independent circuits for each major units, AC/DC converters… A second circuit can also be added in case of dual power supplies (normal and secured).
Compliance to local electrical standards is verified with the customer.
Cable trays are installed in order to accommodate the typical routes.
Earthing and bonding points are made available for inside and outside equipment.
Tripping of circuits is automatically done in case of fire detection inside the shelter.

Single phase of three phases configurations are available.
Material and corrosion protection
Micro Shelters are typically produced in Stainless Steel 316L for all of its outside components. This is the best corrosion resistant material and is compatible with A4 bolting used, avoiding galvanic coupling with other metals.
Alternately, Micro Shelters can be built in high grade aluminium for some specific applications.
Insulation is done via the sandwich panel technique with standard or fire resistant material. This limits condensations (outside or inside) which would be detrimental to waterproofing.
It also saves on energy consumption while optimizing inside temperature to outside conditions.
Site supervision and control via SCADA
Many different sensors and site supervision devices are concentrated on a small SCADA PLC with built-in intelligence.
Temperatures, humidity, air conditioning operations, door movements, fire and other intrusion alarms … are all recorded for analyzing and understanding the conditions which have surrounded the equipment and the personnel which intervened on them.
Data is presented on a touch screen, and can be remotely viewed via VNC. Alerts and other critical events are made available via ModBus registers, and optionally via SNMP traps.
Transfer of recorded data and software update is possible via remote connection.